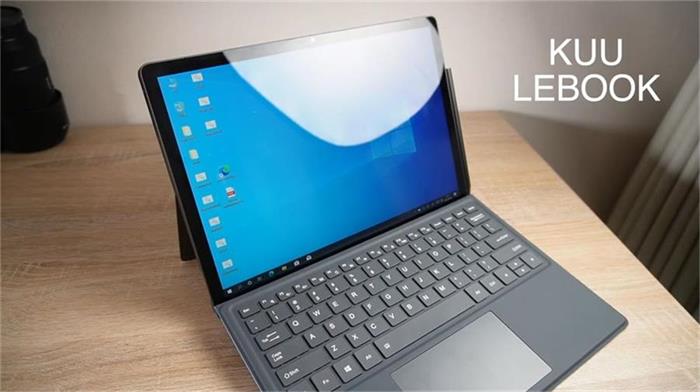 It is no secret, that most of us find ourselves deeply etched inside the fast-lane lifestyle. We are always on the go, juggling between meetings and presentations in the office, traveling from city to city to close deals, reading reports, perusing those cute quick kindle books in between, or finishing up those designs before the clients blow our necks. In all these, we all need a pocket-friendly laptop that has the best balance between usability, performance, and portability. KUU Lebook Pro, the most budget 2 in 1 laptop — budget friendly with better performance is proving to be a worthy companion for such versatile people due to their uniquely splendid traits.
KUU (which means moon) brand was established in 2017, dedicated to creating high-quality and cost-effective notebook computers. At present, the company's products are very popular in the United States, Japan, and many European countries, and have won unanimous praise from consumers. KUU just launched its first 2 in 1 Laptop crisply known as KUU Lebook Pro.
Features of KUU Lebook Pro 2 in 1
To have a clearer understanding of the traits we are talking about, KUU Lebook Pro 2 in 1, the most budget 2 in 1 laptop, comes with the following adorable features at a price that you will be astonished to see! Just $859!
All metal shell, CNC integrated molding technology
It is Ultraportable and Performant. KUU Lebook Pro is the world's first laptop to be enamored in an all-metal shell, CNC integrated molding technology creating a lightweight but sturdy solid body. It does not matter where you go or where you use it, KUU Lebook Pro is pretty light and you can slip it into your small bag without any inconveniences of load on your hands. Adorned with a smooth and natural appearance, it looks very upscale and this demeanor should not give you the slightest hint of performance issues because beneath the smiling feather-weight beauty without gaps is a giant of a worker armed with 16GB RAM DDR4 and Intel Core i7-8550U processor. It will perform beyond your expectations. Let us slip into the details.
High Performance & Large Memory
Under KUU Lebook Pro 12.6 inch 2 in 1 laptop's hood is the blazing Intel Core i7-8550U CPU. This CPU is a reliable engine that gets stuff done. It is loaded with a total of 4 Cores, a total of 8 threads, and a Max Turbo Frequency of 4.00 GHz to provide responsiveness, and smooth and seamless multitasking. KUU 2 in 1 laptop-tablet is furthermore integrated with 9-Gen Intel UHD 620 GPU 300 MHz, to offer you all game freaks an impressive gaming experience. With a built-in LPDDR4 16GB memory and 512GB SSD PCIE, the 2 in 1 tablet offers fast apps launch, smooth games, and video playback. You also get enough room to store your documents as well as download tons of files. What is more, you get a generous Processor Base Frequency of 1.80 GHz, and a Cache of 8 MB Intel® Smart Cache all at half the price of Microsoft Surface.
Something important to take home is that 2-in-1 laptops are a niche category, and productive products are painfully expensive. Lebook Pro balances features and price points to deliver a more convenient and affordable experience for consumers. Such a superior space that the brand has carved for itself.
Detachable Magnetic Keyboard and Capacitive Pen
To scratch the surface, this KUU Lebook Pro computer blends well with the real world. It is designed with the understanding that people need flexibility and this laptop can very well comfortably bend over backward for you. Once you unbox it, you will see a detachable magnetic keyboard and a capacitive pen. This spells it out pretty clearly. You can easily switch between computer and tablet mode to suit various occasions. You can switch it to a Tablet when you would wish to watch your favorite shows in the field or scroll through a couple of photos as you sip your tea. In the same breath, when you would wish to type your poems or edit your interesting reports, you can hook up the detachable magnetic keyboard and it morphs into a full-blown laptop, aiding you to type away like a boss. A point to highlight is that no Bluetooth pairing connection is required, only magnetic alignment is enough to be connected to the keyboard. Two is always better than one and KUU Lebook Pro makes this possible for you.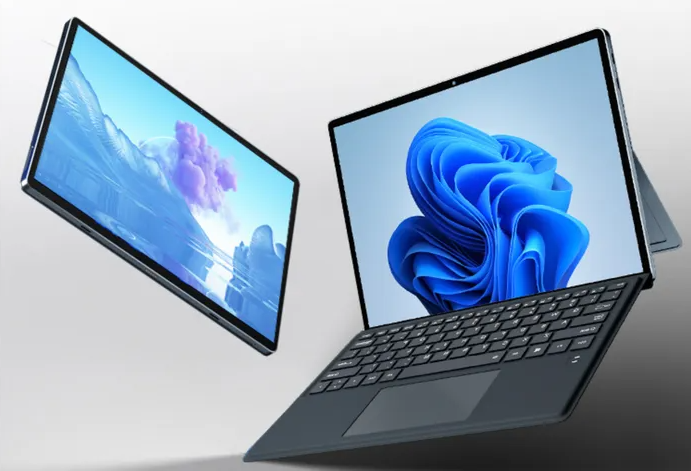 Immersive Graphics
Deeper into the surface, KUU Lebook Pro 2 in 1 is the go-to canvas for graphic designers, game programmers, and all UI/UX experts. With the fantastic UHD Graphics 620 12.6 inches 2160 x 1440 IPS screen with (4:3) golden aspect ratio, you get an immersively bright, and vivid visual experience as you build the best designs and games in your world. Included in the package is a comfortable capacitive pen with 4096 levels of pressure sensitivity to paint your colors, sketch your notes and the blessing of anti-blue light to care for and protect your delicate eyes. Before we forget, you can also touch the screen if that is what you prefer because the screen is 10 point G+FF Capacitive touch screen. Moreover, a 512 ROM Solid State PCIe Drive will ensure that more of your final graphics, documents, and designs are stored for posterity.
Adopt PCIe for better user experience
Hanging on the proven faster rates of PCIe, all of the previous internal buses such as AGT and PCI have been replaced by it to make the life of the consumer bliss. Since PCIe is perfectly compatible with PCI-capable Operating Systems, you will have nothing to worry about changing anything in your OS. So in case, you would wish to upgrade, you can do so without an iota of doubt. Moreover, you will be pleased to know that PCIe devices can support hot-plugging and hot-swapping features, and currently, the three supported voltages are +3.3V, 3.3Vaux, and +12V.
An abundance of attention to Consumer's Voice
Without feedback and the valuable reviews that customers give to every provider of goods, then there will be no progress and no growth. KUU Lebook Pro manufacturers have this fact seriously etched in their processes and do everything possible to ensure that customers are comfortable. Here is a good example of how the manufacturer cares for and values its customers. After KUU released Lebook last year, some consumers voiced concerns about the keyboard and some noises that the fan was producing. Once this reached headquarters, KUU immediately halted manufacturing to prevent further delivery of the laptops with the issues being raised. Nevertheless, through KUU's strong values of continual innovation, the company was able to swiftly resolve the issues and introduced a minor upgrade that made their customers a happy lot.
Heat No More
Adding badges to this well-decorated legend of a machine, KUU Lebook Pro 12.6 inch 2 in 1 is built to effectively dissipate any heat it produces as it labors for you. With the award-winning bold copper tubes conduction and 25% improved blade speed, be sure that you will not notice the irritating heat that gets under your skin as you do your work or indulge in your play.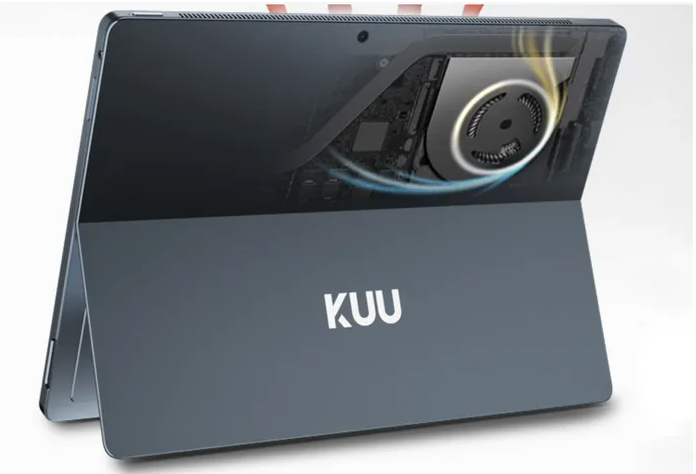 One other feature you will notice is that you will never have to look over the bottom corner of the screen to check how much battery level is remaining. This 2 in 1 liberates you from that work because you get a whopping four (4) hours of video playback and up to seven (7) hours of office work. How much more can you ask for at the affordable price that KUU affords you?
A Seamless Interconnection
Most devices have migrated into type C interfaces and KUU has followed the same route. You will be able to plug into the computer using the same cabling and interfaces you have been using, and hence your personal life is not affected at all. No buying new interfaces to interact with the ones you already have. KUU Lebook Pro 2 in 1 also comes with a rich earphone jack interface to enable you to plug in your booming earphone or connect to it via Bluetooth if you so wish. What about internet connectivity? You may ask. Lebook Pro enjoys a 2×2 AC + BT combo card WiFi card that will connect to all Wii frequencies and connect you to your favorite websites and movie stores. It is a limitless experience here!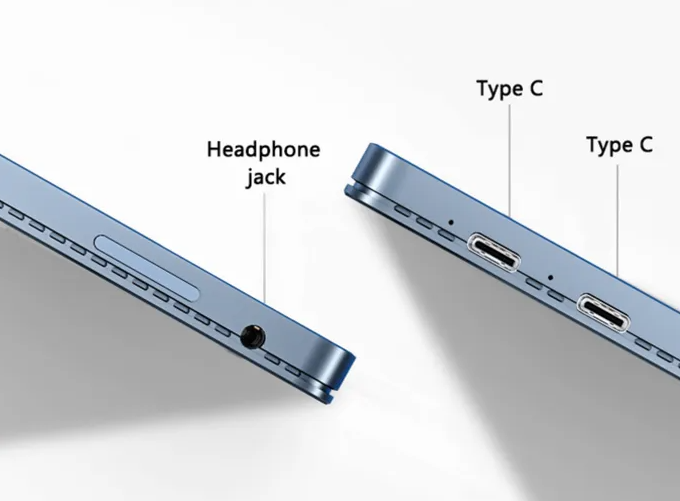 Keeping it Safeguarded
Furthermore, the security of your devices can never be overlooked but overemphasized. KUU Lebook Pro takes no chances with the confidentiality, safety, and integrity of your belongings. It is fitted with a highly sensitive fingerprint module that will allow only you to access the device. After it has been configured, you will automatically enter the desktop after the power button is touched, which completely protects your privacy. Bid the hassle of usernames and passwords an abundant bye.
The 0° to 150° Kickstand Magic
How can we forget the 150 degree multi-angle Kickstand? Whether you have detached the keyboard and left with the pad or it is fully hooked up as a computer/laptop, the kickstand is the real master of comfort. The U-shaped tripod can be adjusted from 0° to 150°. Any angle that delights your eyes or posture so that you can enjoy your work or rejuvenate your spirit as you play can be achieved.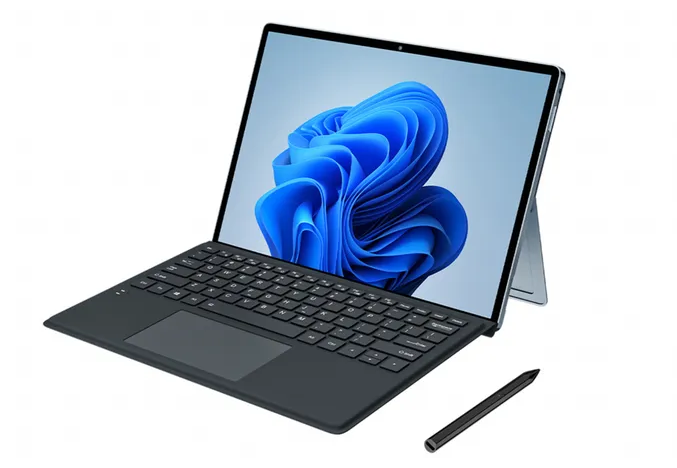 A Thousand Words Composer
And to all photo lovers, this is like a love letter to you all. KUU Lebook Pro 12.6 inch laptop/tablet is equipped with front and back cameras that will capture the details you have always dreamed to grasp. Whether it is the clearest view of your smiles or the wrinkles beside your lips that add glamor to your face, this has the camera that you deserve. Every twitch, every swing, every blur, and every hue will be deeply captured as you make memories, create stories, or pour out your heart in those captivating videos and word-filled photos. You now have the world at your disposal.
Introduction To Related Videos