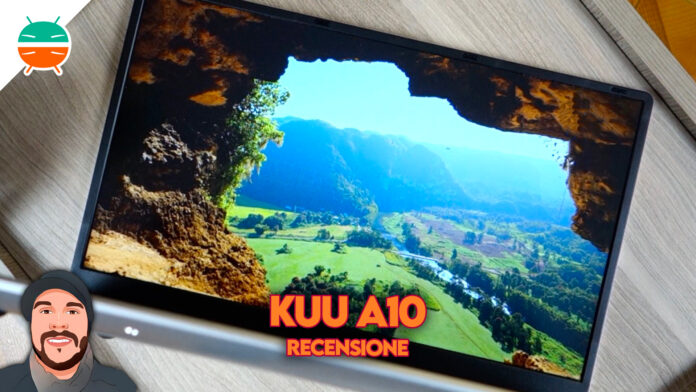 Do you have a notebook? How do you usually use it? What are the main features that you think a product of this type should have? These are the questions that more or less any type of user asks himself when deciding to buy a new laptop. However, it is not always easy to answer these questions due to various factors. Sometimes, in fact, you think you have to make a certain type of use of a product which then, in the end, turns out to be completely useless. It also happens, however, that we become passionate about this world and decide, at some point, to learn how to manage more and more applications and programs. It becomes crucial, therefore, to choose the right model among the many offered on the market. In addition to being various price ranges, there are also totally different characteristics between the various models, so the choice becomes increasingly difficult. For example, you might just turn your gaze to ours KUU a10 laptop who, in the last few days, has accompanied us in various work activities. It is difficult to say, however, if it is actually worth buying it, even in the face of what is offered by the competition. We, therefore, are here for this, to shed light on its functioning and on all its strengths within its Full review.
Unboxing
As often happens in these cases, the company has taken steps to include the bare minimum in the sales package, finding the following products inside:
KUU a10 laptop;
wall power supply, with European socket;
warranty certificate;
short sales manual, also in Italian.
Design & Materials
Pick up the sales box, open it and take a look inside. Grab your new KUU a10 laptop and try to describe this product with the first word that comes to mind. I think the first one that could come to your mind is "light" since to the touch it seems to be in front of a featherweight. Be careful, however, because we are still in the presence of a laptop from 1,3 Kg which due to the presence of plastic, in the totality of the external structure, seems to be much more manageable than others. In any case, I did not appreciate this choice of polycarbonate on the entire surface, even the internal one, which almost denotes the presence of a cheap product. Taking a look at the price, in fact, we are on the same wavelength as other devices that show at least some metal components. By handling this device a little, then, you can notice some creaks that do not bode well for the future as regards the assembly of the product. I report, however, also the general dimensions of this notebook, which measures 375 x 245 x 22 mm, therefore, a device that is also quite demanding in this respect.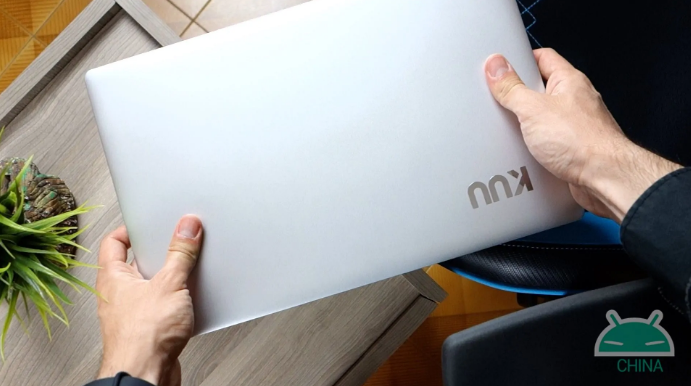 I would have expected something more, as already mentioned, on a constructive level. I must say, however, that this device has also disappointed me in another respect, namely that relating to the provision of ports. Taking a closer look at the KUU laptop, in fact, we notice the presence of two ports USB-A 3.0 left and right as well as the audio jack 3,5mm, the hole to connect the power cord, and a door mini HDMI. There is really nothing more. Surely, however, the fact remains that the company could have done something more in terms of robustness since with slight pressure on the keyboard there is an important flexion. Even if this problem does not affect its daily use, it remains a critical issue to report.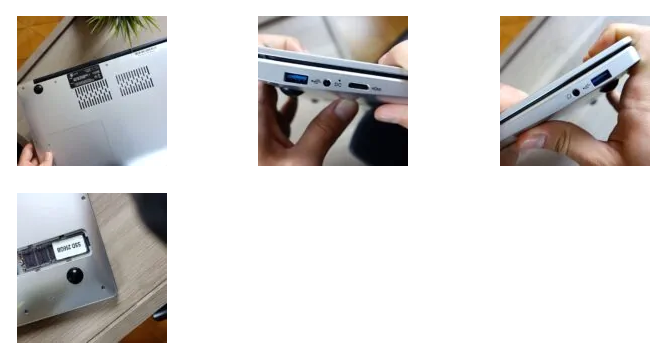 Taking a look at the back we see how this KUU a10 laptop presents two accesses to the hardware. With the smaller compartment, it is possible to replace the SSD da 256 GB, while with the larger one we access an area adjacent to the keyboard and trackpad. I have not yet understood, however, what its real usefulness can be.
Keyboard & Trackpad
Having had the opportunity to try many similar products I already knew, more or less, what to expect from the feedback area of the keyboard. I was not wrong, because actually the distance between the various units is good and the accuracy is also not bad. There remains only the problem of their running which, as far as I'm concerned, is too soft. Last but not least, the layout is the American one so it will be necessary to get used to it a bit at the beginning, especially if you have never used such a system. In spite of everything, however, I did not find it uncomfortable and after a few hours of use, I hardly made any more mistakes. It is a rather large keyboard, then, also because on the right side there is a numeric keypad.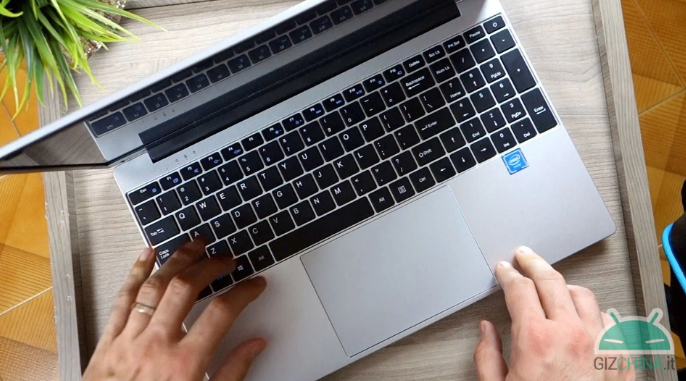 I never complain about the trackpad, except in exceptional situations. I must admit, however, that this component did not impress me at all on this laptop, since the accuracy is rather sketchy. From a certain point of view, in fact, not all movements are received in the same way, and sometimes it is difficult to click on the right button, or on the right icon. I specify, in any case, that I come from a MacBook Pro from 2019, therefore of one of the devices accused of having a rather fragile keyboard but, at the same time, very comfortable when writing and phenomenal when moving around the interface, thanks to its trackpad. While the dimensions of that component on this A10 are really good, it fails to satisfy in the same way.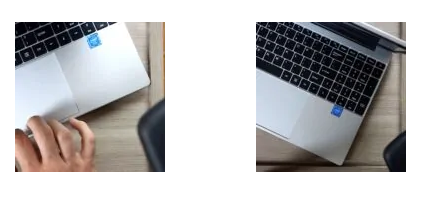 Display
On the front, it is located in an IPS LCD display da 15,6 " with resolution Full HD (1920 x 1080 pixels). I have to admit that the plastic side bezels are quite thin on three sides. In fact, this component is still predominant at the bottom. Despite this, however, we find an excellent surface anti-glare and the viewing angles are decent. This means that, even at maximum brightness, the panel can be seen quite well in direct sunlight, although we were not meant to be used outdoors. In my opinion, in fact, it behaves much better in the home, also due to its not very small size.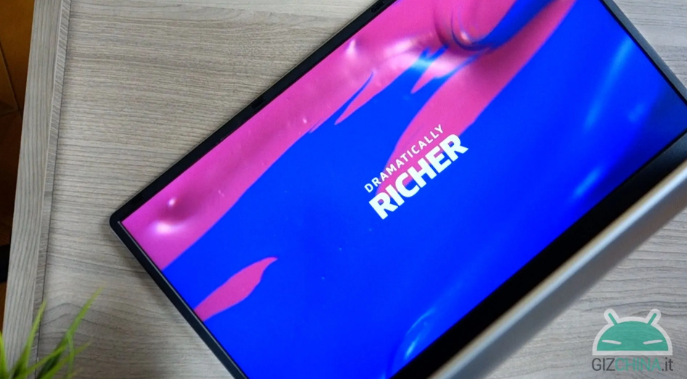 Let's say it is a display without infamy and without praise. In its same price range, however, I found much poorer panels in terms of quality. There is no problem, therefore, in viewing multimedia content locally and in streaming, on some digital platforms such as Netflix e Amazon Prime Video. Even if the blacks are not too deep, it is still possible to enjoy a good experience when watching movies and TV series, with not too vivid colors and a sufficiently good image contrast.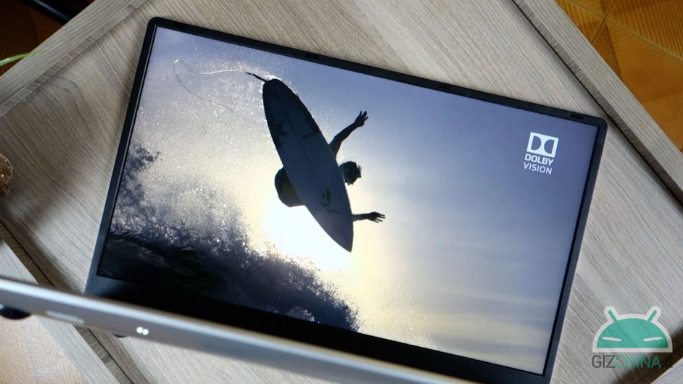 Hardware & Performance
Onboard resides a processor Intel Celeron J4125, therefore a CPU with base clock frequency equal to 2,0 GHz and turbo boost up to 2,7 GHz. We have, then, well 8 GB of LPDDR4 RAM and an SSD 256 GB which, in any case, can also be replaced. I want to specify, however, that this storage space has been divided into two parts, namely disk C with 118 GB available and disk D with another 118 GB. From the graphic point of view, however, we find one Intel UHD 600 GPU with a base frequency of 200 MHz.
I have already tried machines of this type, with similar or even identical processors, and I must say that in terms of performance we are on good levels. Obviously, you can't expect who knows what results, but in everyday use, this laptop behaves quite excellently. I want to immediately say, in fact, that it does not show any particular problems in playing movies in 4K, even beating products equipped with an AMD Ryzen 7 (see TBAO H7). This means that the system has been optimized, managing to bring out all the characters of the processor. Beyond this, then, the management of different open tabs on Chrome is discreet, although the loading of various contents puts a strain on the hardware. We must then clash with the trackpad that is really too inaccurate which very often cannot understand our intentions on the fly, carrying out other unwelcome actions. We also find this aspect during the editing of a short video on Adobe Premiere Pro, where it becomes difficult to manage all the various video and audio tracks. Everything runs quite smoothly but you can't exaggerate that much, necessarily going to insert a few effects and transitions.
Lato Gaming let's say you can't complain, especially considering the hardware mounted inside this laptop. I was able to play discreetly only ad Asphalt 9, but it is necessary to make the necessary considerations of the case. The frame rate is low, so the images really are poco fluid and greatly ruin the gaming experience. In short, this product was obviously not designed for video games, so much so that after a few tens of minutes there temperature perceived on the body is quite high. This problem also emerged in the test phase, often reaching 85 ° at maximum speed. I must admit, however, that under normal conditions the heat remains on more acceptable values, climbing dramatically only with some benchmark programs and during prolonged gaming.
Benchmark
Software
Do you want to install Linux on that machine? You can safely do this, but first, take a look at how it works with Windows 10 Pro. Thanks to this system, in fact, it is possible to enjoy the classic Windows interface, all the various apps that can be downloaded through the Microsoft Store, and much more. As always, in fact, we are in the presence of ready-to-use software that does not require any further adjustment. By purchasing this KUU a10 laptop, therefore, you may simply have to update the system before being able to use it every day.
Even on this the best custom laptop brand are present all the rights of Windows, being able to manage the system as on other similar products.
Connectivity & Audio
As said also in the initial phase, in the first chapters, I must say that I was a bit disappointed with the hardware equipment of this product. I would have expected more ports, simply finding myself with two USB 3.0 inputs, a mini headphone jack, and the mini HDMI port. Let's say that the USB Type-C and microSD slots would have certainly been welcome. Despite everything, however, we find a module on board 802.11 Wi-Fi a / b / g / n / ac Dual Band e Bluetooth. There is no shortage, then, two audio speakers placed at the bottom, right on the lower surface. In short, an unfortunate position since if positioned on some soft plane the sound is completely covered. Beyond this, however, the quality is insufficient due to an absolutely poor sound depth.
Da poco I have reviewed the TBAO H7 which shows the webcam on the front frame, bottom left. Also this device, therefore, has opted for the same solution, proposing a sensor from 2 MP. I must admit, however, that even in this case the quality is insufficient and barely valid for videoconferencing.
Autonomy
One is hidden under the body battery da 38Wh which manages to satisfy most users. With average intense use, always under Wi-Fi network, I mainly used YouTube, web browsing, a few tens of minutes on Premiere Pro, WordPress for writing articles, and poco other, totaling 5 hours of continuous ignition. Let's say that we are more or less in line with what is offered by the competition, managing to manage resources well even in the most hectic phases.
The 24W power supply supplied in the package is not too big, showing even smaller dimensions than those of a common MacBook charger. It can, therefore, be easily inserted into any backpack without too many problems.
Price & Conclusions
Currently, this KUU a10 laptop is sold for about the price of 330 €.
It becomes difficult to compare it with other similar products, but I must say that in this case, the performance is convincing. Although at a gaming level is in no way manages to excel, in everyday use it shows the solidity and good execution speed. I would have preferred, in any case, to be able to take advantage of a better and much more precise trackpad than the one mounted on this product. Despite this, other various accessories can be added, being able to connect, for example, an external mouse, thus improving the quality of use of this device. The fact remains, however, that the performances are there and also go well beyond expectations, managing to manage resources well in almost every situation.
Source: https://en.gizchina.it/2021/06/kuu-a10-review-the-best-notebook-under-350-euros/