Intel Core i7, klawiatura i stylus w tanim laptopie 2w1 za pół ceny Microsoft Surface Pro!
KUU Lebook Pro to bezpośredni rywal dla Microsoft Surface Pro za mniej niż pół jego ceny. Ma klawiaturę i stylus w zestawie oraz kosztuje bardzo rozsądną kasę. To może być najlepszy laptop 2w1 w tym budżecie.
Laptopy 2w1 są albo niedrogie i słabe, albo drogie i wydajne. Co jednak, gdyby postarać się połączyć oba światy? Wtedy taki sprzęt nazywa się KUU Lebook Pro i za pół ceny podobni wyposażonego Microsoft Surface Pro może być twój za małą kasę.
Czy Lebook Pro to najlepszy tani laptop 2w1?
Tym, co odróżnia tablety od laptopów 2w1, obecnie jest głównie wydajność. O tym jednak za chwilę, bo  ma do zaoferowania dużo więcej, niż tylko mocne podzespoły. Przede wszystkim to bardzo ładna konstrukcja. Obudowa jest metalowa i stworzono ją przy pomocy procesów CNC. Producent chwali się, że to pierwszy tego typu laptop na rynku.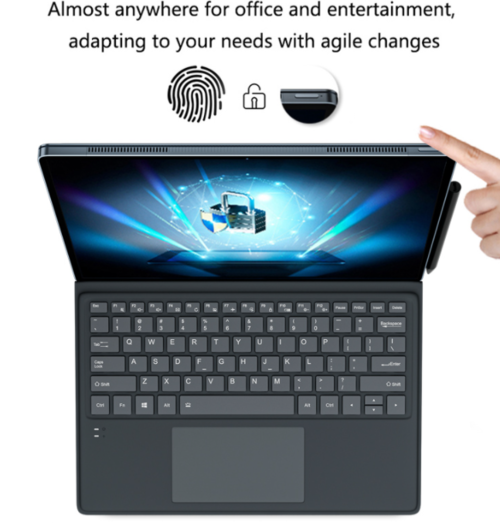 Całość ma tylko 10 mm grubości, jest więc znacznie cieńsza, niż dowolny laptop w tym segmencie. Dobre wrażenie robi też ekran. Ma ramki cienkie niczym w tablecie i przekątną 12.6 cala. Rozdzielczość też jest ponadprzeciętna – to 2160 na 1440 pikseli. To przekłada się na proporcje 3:2, zdaniem wielu i moim najlepsze do pracy z dokumentami. Dzięki temu w podróży zastąpi laptopa, a w domu – stacjonarkę.
Pozwolą na to podzespoły. Dopóki nie jesteś wymagającym graczem, to nie będziesz narzekał na wydajność. Procesor to Intel Core i7-8550U. Wraz z 16 GB RAM oraz szybkim dyskiem SSD z magistralą PCIe (znacznie szybszą od poprzednich rozwiązań) o pojemności 512 GB spokojnie wystarczy to do obróbki zdjęć i montowania wideo. A to wszystko w urządzeniu, które zmieści się do damskiej torebki.
Producent podkreśla też, że słucha swoich użytkowników i kolejna generacja została stworzona w oparciu o ich opinie. Poprawiono chłodzenie i głośność wentylatorów. Lepsza jest też klawiatura – jeden z wyróżników Lebook Pro.
Klawiatura i stylus w zestawie
No właśnie – klawiatura. Zwykle za takie akcesorium trzeba słono zapłacić, a tutaj znajdziesz je w zestawie. Ze względu na wymiary samego sprzętu jest pełnowymiarowa. Magnetyczne złącze pozwala na łatwe podłączenie i szybkie odłączenie. Nie ma konieczności parowania przez Bluetooth. Ma nawet podświetlenie – rzadkość w przypadku takiego akcesorium.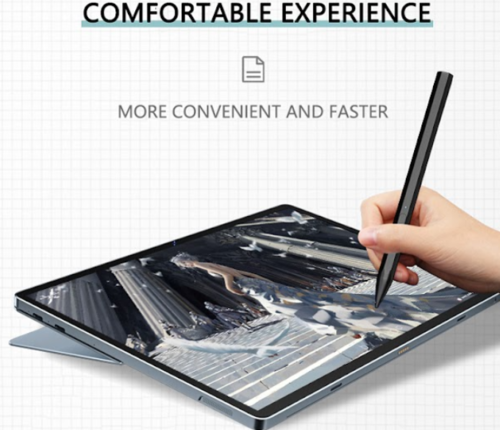 Druga sprawa to stylus. Wspiera 4096 punktów nacisku i magnetycznie trzyma się obudowy. Tego chyba nikt nie spodziewał się po tak atrakcyjnie wycenionym sprzęcie. Dodam, że podobnie wyposażony wariant Microsoft Surface Pro bez akcesoriów kosztuje niemal 9 tysięcy złotych. I to właśnie stosunek możliwości do ceny robi z Lebook Pro tak interesujący sprzęt.