Is the KUU cool? There are a lot of Windows 10 tablets to choose from beyond the Microsoft ones. The KUU LeBook is perhaps the closest in terms of visual design and performance while costing potentially hundreds of dollars less, but it misses the mark in a few areas.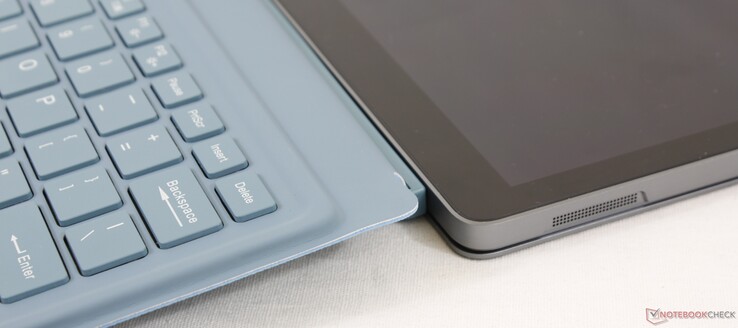 The KUU LeBook 12.6 is a Windows 10 detachable in the same vein as the Surface Pro series. Its design and features are clearly inspired by the successful Microsoft tablets with certain changes and cut corners in order to keep prices significantly lower. One of these changes is the use of an older Intel 8th gen Core U-series CPU instead of the latest 11th gen versions currently found on most PCs in the market today. This review will explore all the other differences users can expect if purchasing the cheaper LeBook instead of a more traditional Surface Pro.
Competitors to the LeBook include other Windows 10 tablets or detachable like the Microsoft Surface, Lenovo ThinkPad X12, or Dell Latitude 12 7210 2-in-1 all of which retail for higher prices. However, the book is unique with its slightly larger 3:2 12.6-inch display instead of the usual 12.3-inch or 12.5-inch screens. The manufacturer has yet to finalize the price of the book as it is not yet widely available at the time of publishing.
Top: Power button

Right: Volume rocker, 3.5 mm headset

Bottom: POGO pins for keyboard base

Left: 2x USB-C w/ Power Delivery and DisplayPort
Communication
There is no Wi-Fi 6 support likely to save on costs. The integrated 1x1 Intel 3168 offers real-world transfer rates of only around 350 Mbps to be over 4x slower than pricier laptops with the Intel AX200 or AX201.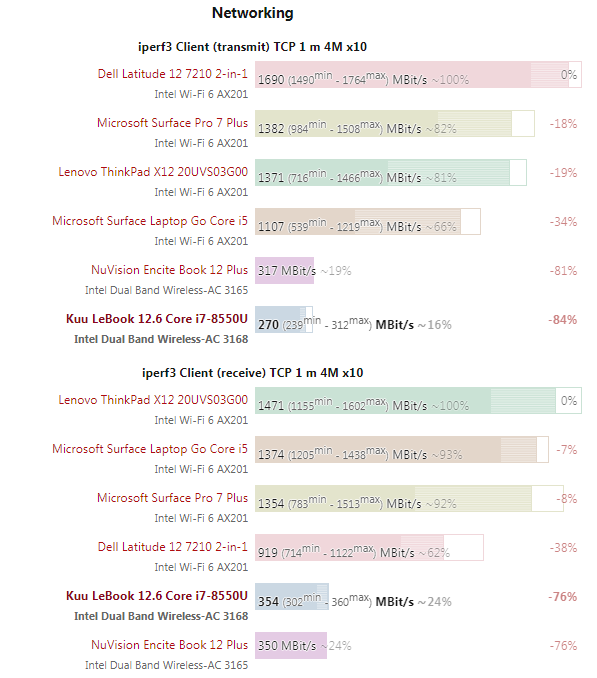 Webcam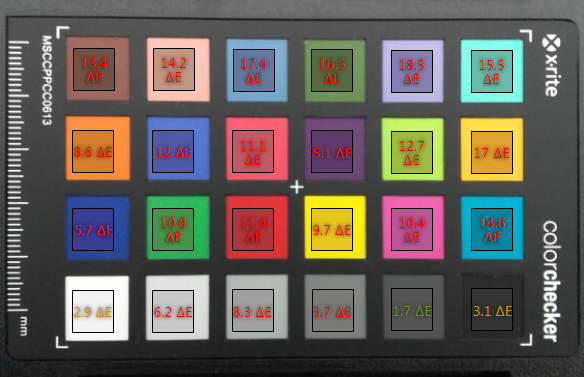 ColorChecker Kuu LeBook 12.6 Core i7-8550U: 10.52 ∆E min: 1.68 - max: 18.53 ∆E

Kuu LeBook 12.6 Core i7-8550U
Accessories and Warranty
The retail box includes the AC adapter, detachable keyboard dock, and an active pen stylus. The standard one-year limited manufacturer warranty applies.
Input Devices
Keyboard
The typing experience is worse than on the Surface Pro series mostly because of one drawback: the base doesn't sit completely flat on the table. As a result, the back of the keyboard base will always bounce up and down when typing which impacts the feedback of the keyboard keys. Typing feels spongy since you're pushing down on the whole base with each keypress.
There are two LED indicators on the left palm rest of the keyboard base. These lights are relatively bright and we wish they could have been a bit smaller to be less visually obtrusive.
Touchpad
The clickpad is larger than the clickpad on the Surface Pro 7 (10.8 x 6.4 cm vs. 10.2 x 5.3 cm). Its advantages end there, however, as almost everything else about the LeBook clickpad is worse. Its surface is sticky when gliding at slower speeds which leads to a jumpy cursor. Multi-touch inputs are also finicky, unresponsive, and oftentimes inaccurate. When trying to drag and drop, for example, the system would frequently register our actions as zooming in or out instead. The integrated clickpad buttons, while loud and clicky, take a lot of force to actually press. And finally, the clickpad is not Precision-enabled meaning any Microsoft Precision features are out of the question.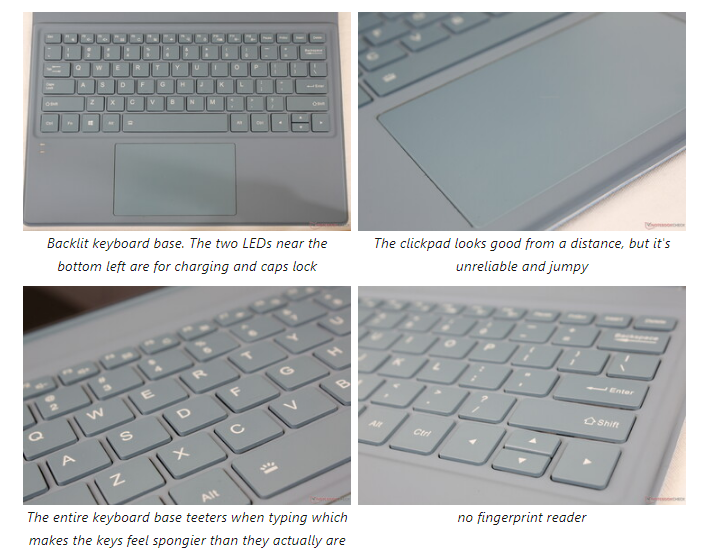 Display
The 12.6-inch BOE TV126WTM-NU0 IPS panel is the first to appear on our database. Certain attributes like response times and color coverage are slightly worse than on the Surface Pro which thankfully won't matter very much when web browsing. Other attributes like contrast ratio and maximum brightness are meager and representative of a budget panel.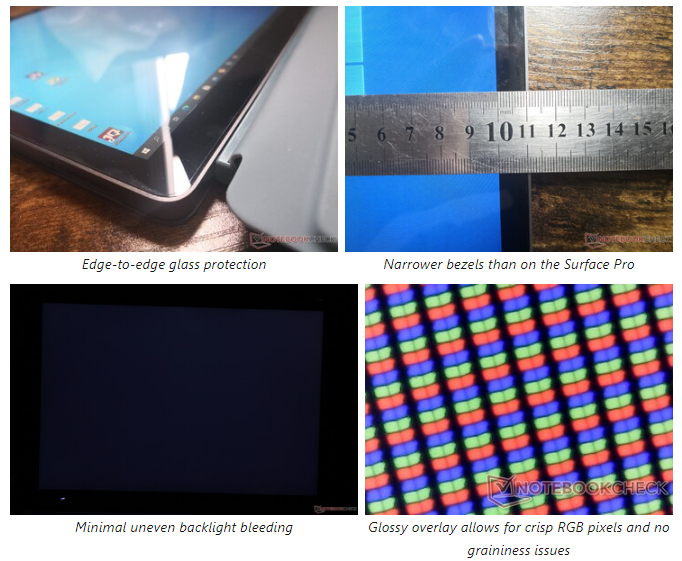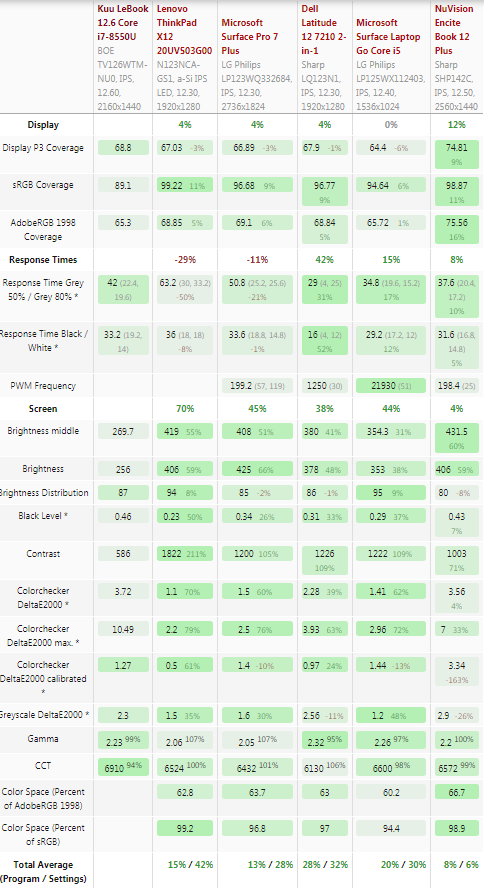 Color space is wide at approximately 89 percent of sRGB compared to >95 percent on pricier Ultrabooks and tablets. Color reproduction is roughly comparable to the display on the Surface Laptop Go.

The display is decently calibrated out of the box despite the cheap starting price. Color temperature is slightly too cool, but a calibration addresses this without any issues. The final average grayscale and ColorChecker deltaE values of just 1.5 and 1.27, respectively, are better than we had initially expected. Shades of magenta may be more inaccurate than other colors, however.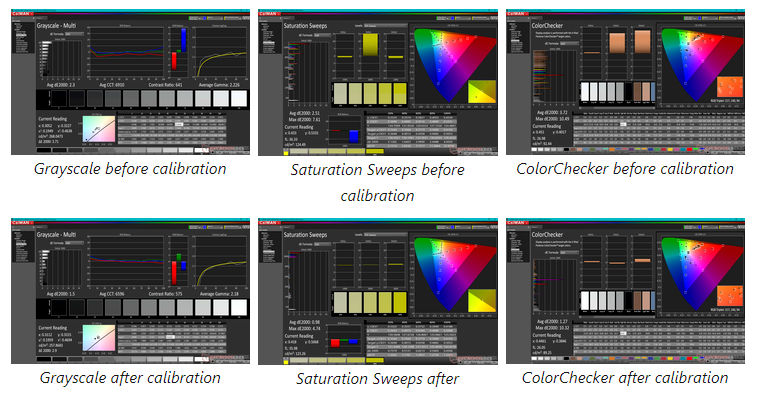 Display Response Times
Display response times show how fast the screen is able to change from one color to the next. Slow response times can lead to afterimages and can cause moving objects to appear blurry (ghosting). Gamers of fast-paced 3D titles should pay special attention to fast response times.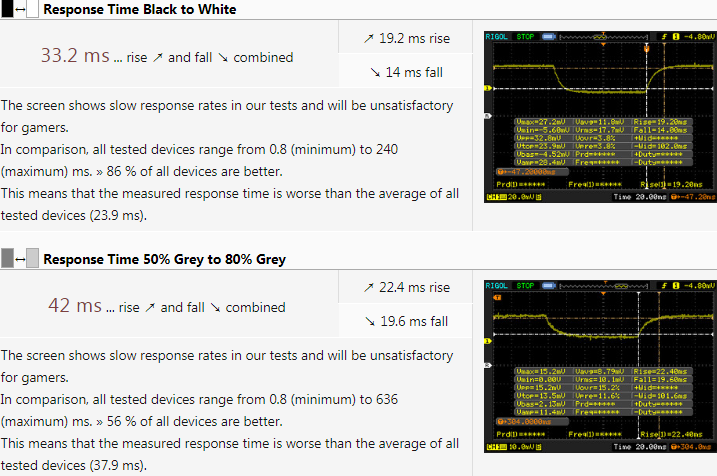 Screen Flickering / PWM (Pulse-Width Modulation)
To dim the screen, some notebooks will simply cycle the backlight on and off in rapid succession - a method called Pulse Width Modulation (PWM). This cycling frequency should ideally be undetectable to the human eye. If said frequency is too low, users with sensitive eyes may experience strain or headaches or even notice the flickering altogether.

Outdoor visibility is poorer than on most other tablets since the display is dimmer. Expect a lot of unavoidable glare when under most outdoor conditions.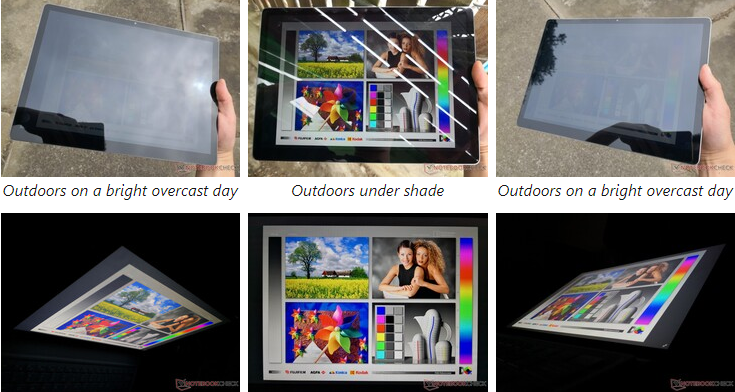 Performance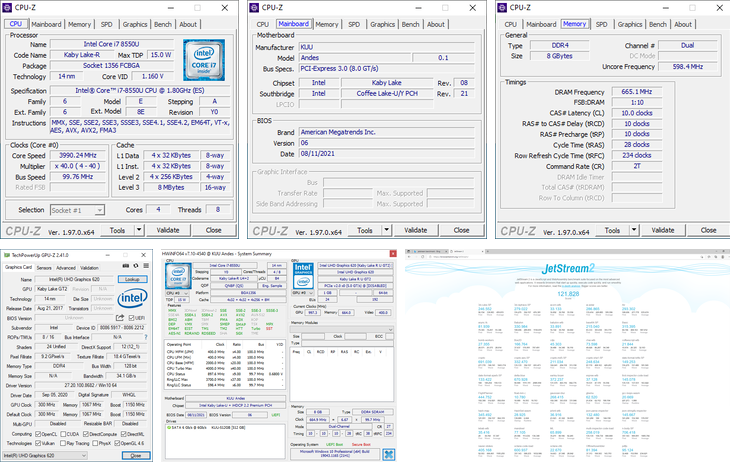 Processor
CPU performance is roughly 30 percent and 45 percent slower than the latest Core i7-1165G7 in single-threaded and multi-threaded workloads, respectively. Though significant, the difference is not very noticeable for simpler tasks like web browsing or word processing. It's certainly still leagued better than a Celeron or Atom system where applications take much longer to launch or navigate through.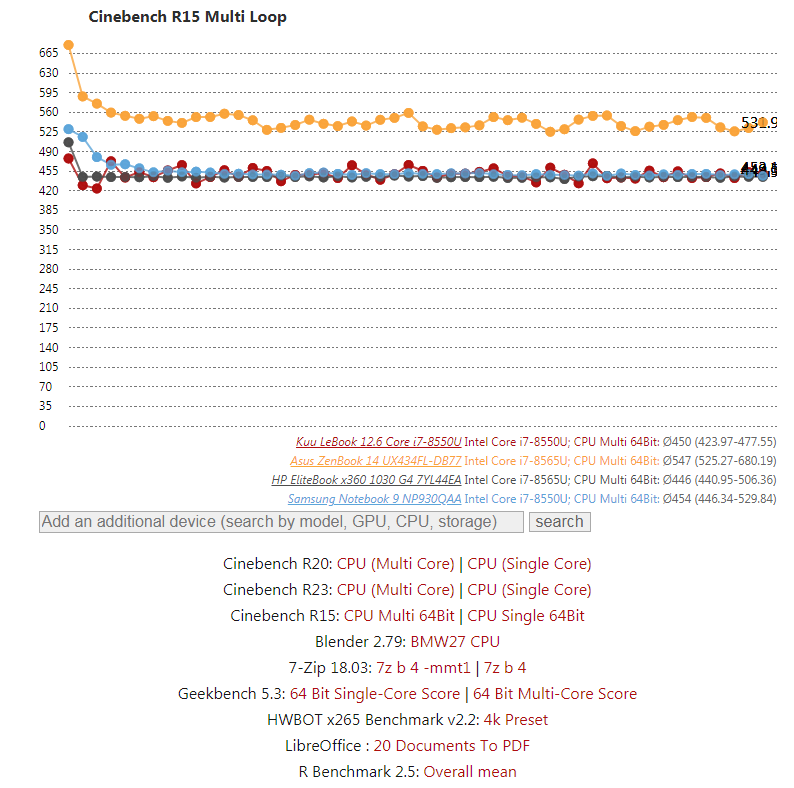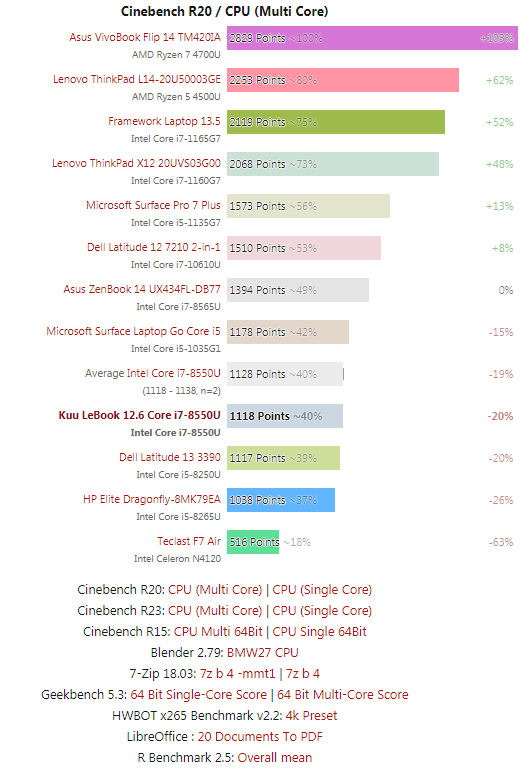 System Performance
PCMark results are where we expect them to be relative to other models with the same Core i7-8550U CPU. We appreciate the fact there the system comes with no manufacturer bloatware for a clean Windows 10 experience.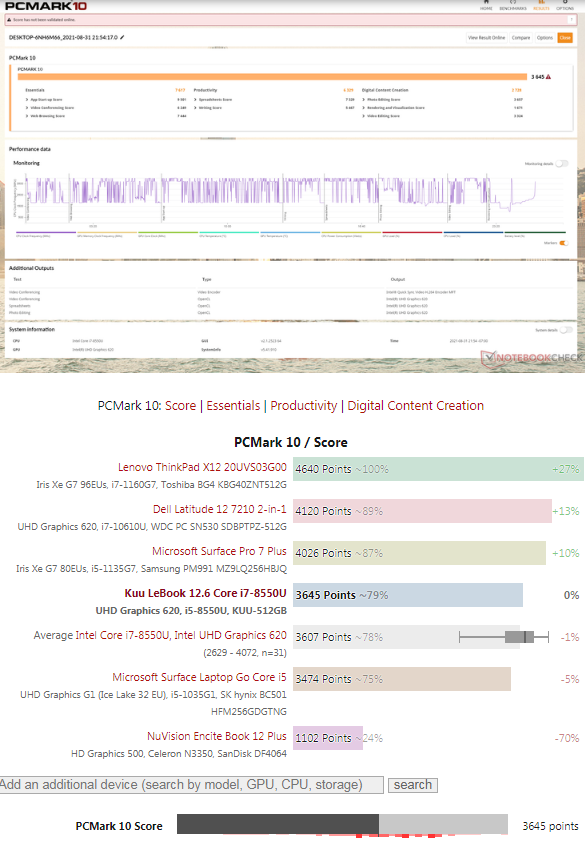 DPC Latency
LatencyMon reveals no major latency issues when opening multiple browser tabs on our homepage. 4K video playback at 60 FPS is also without any issues despite the outdated Intel CPU.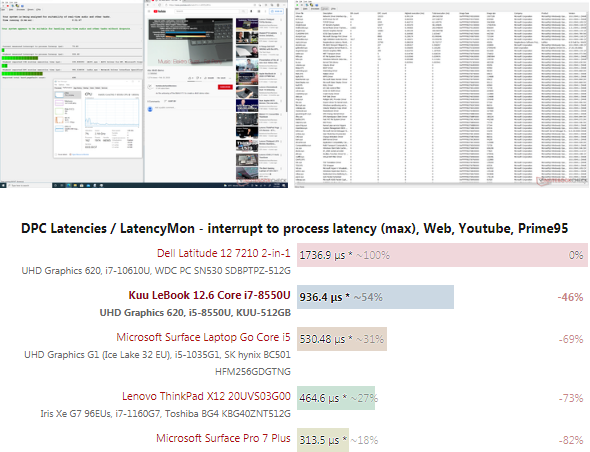 Storage Devices
Internal storage is spacious at 512 GB with transfer rates similar to most SATA III SSDs. The lack of an SD card reader means is less of an issue when the internal drive is as large as most laptop drives.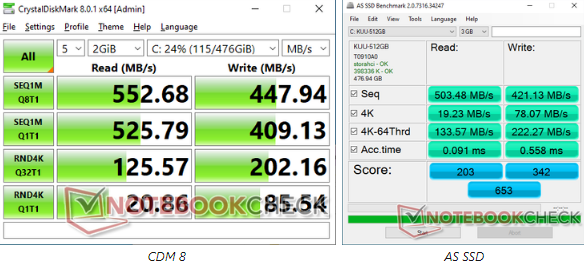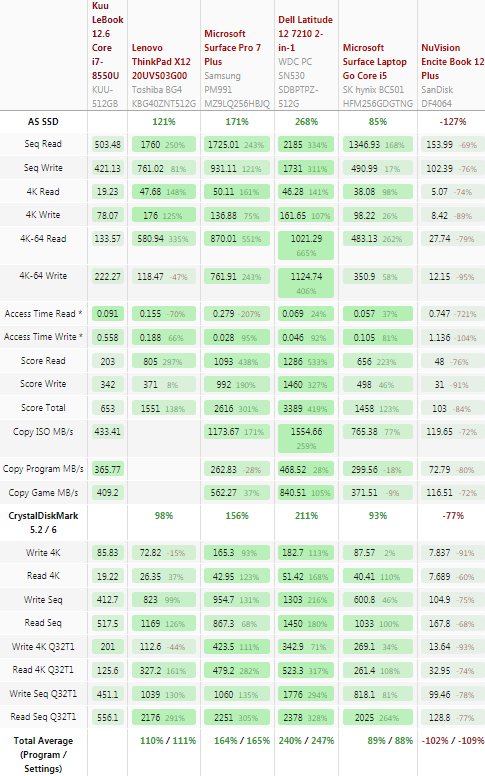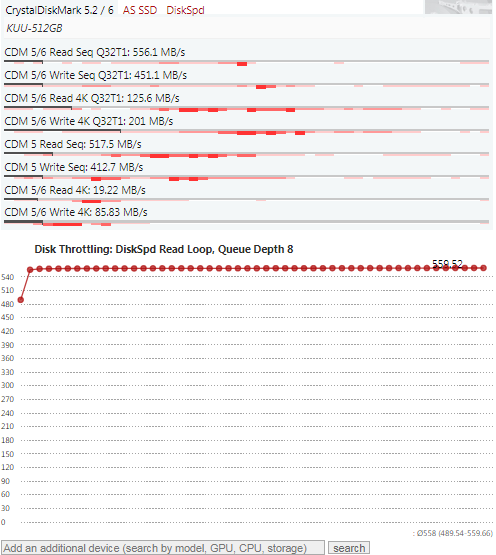 GPU Performance
The UHD Graphics 620 is poor by today's standards where Radeon RX Vega and Iris Xe models reign supreme. This won't be an issue for 4K streaming or non-gamers, but even the slightest bit of editing or gaming will benefit significantly from upgrading to the Surface tablet or any other device with AMD Zen or 11th Intel Tiger Lake CPUs.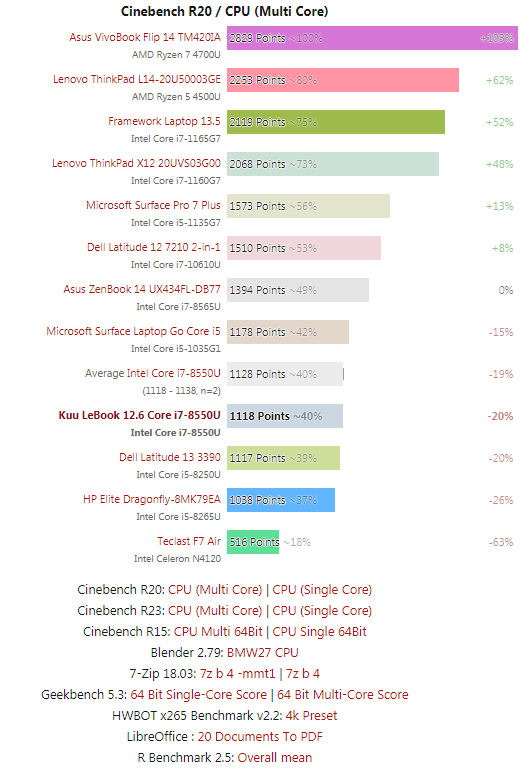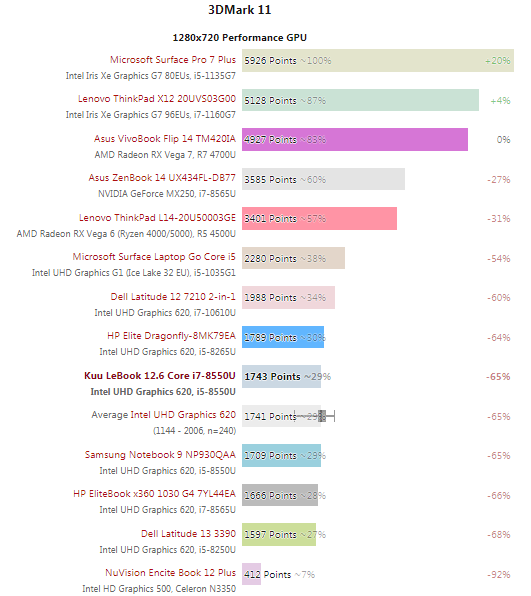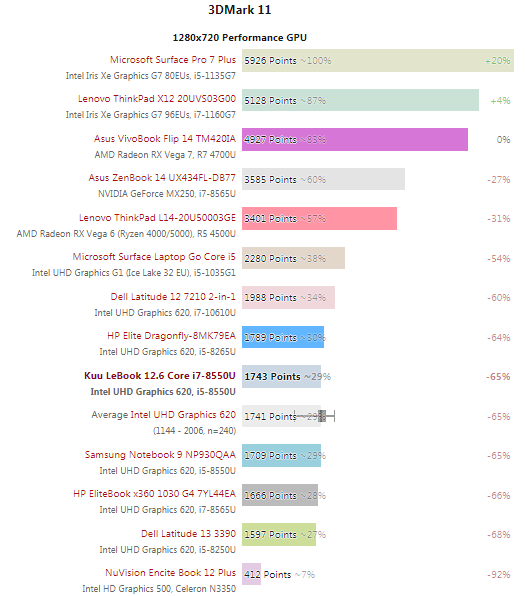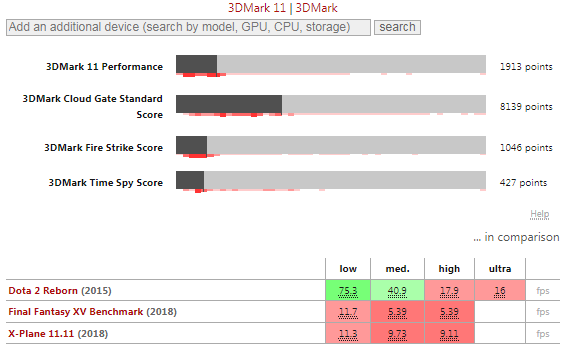 Emissions
System Noise
The internal fan is noisy and it pulsates frequently. Even simple actions like web browsing will initiate the fan whereas it would remain silent on most other tablets and ULV laptops. Expect the fan to pulse in the 36 to 41 dB(A) range under most conditions or up to 45 dB(A) when running higher loads like games.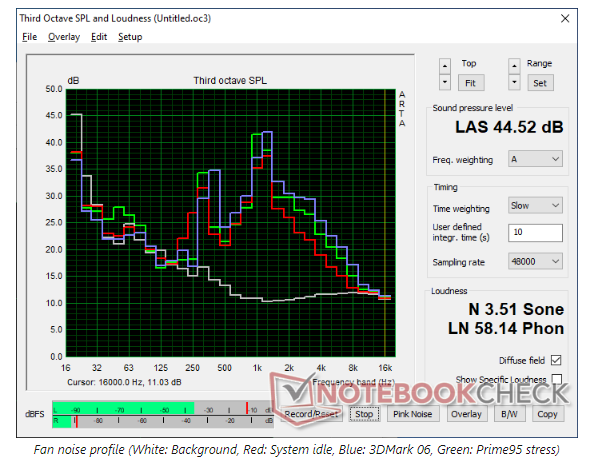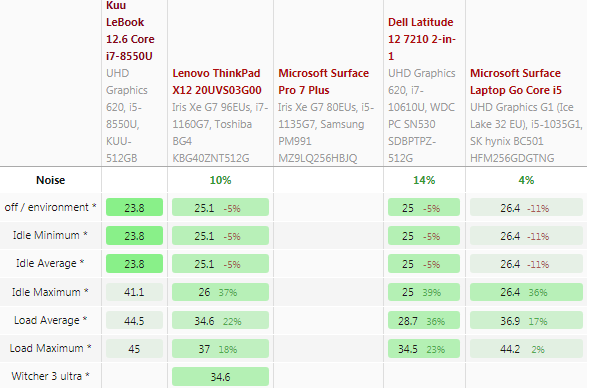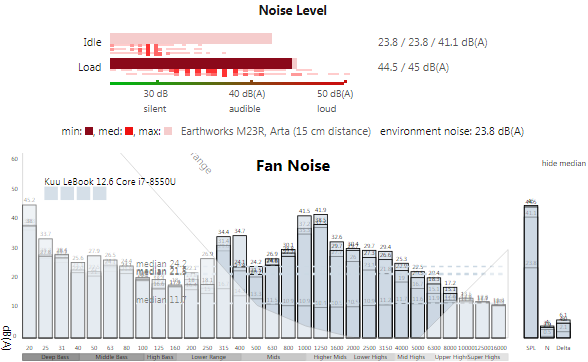 Temperature
Surface temperatures when idling on the desktop are warmer than expected at up to 41 C and 36 C on the front and back hot spots, respectively. Running higher loads will kickstart the internal fan leading to a slightly cooler hot spot of 37 C on the front while the back will be slightly warmer at 40 C. The warmth is noticeable when handling the tablet, but it's thankfully cooler around the edges and corners to not be distracting.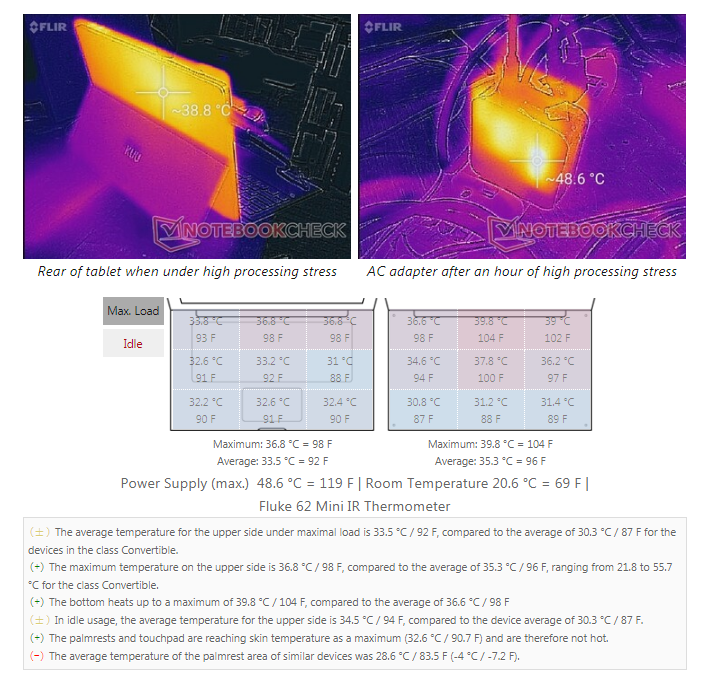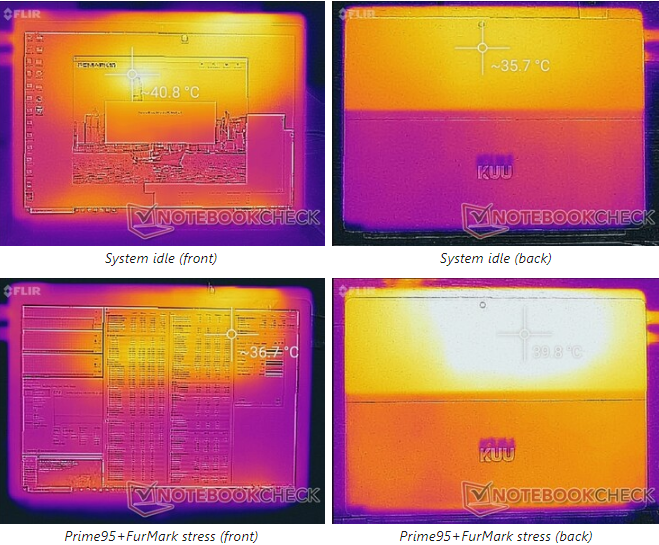 Stress Test
System idle when running Prime95, the CPU would boost to 2.4 GHz for about 30 seconds until hitting a core temperature of 77 C. Thereafter, clock rates would fall and cycle between 1 GHz and 1.7 GHz in order to maintain a cooler temperature in the 60 C to 65 C range. Turbo Boost sustainability is therefore limited on the LeBook since it is a tablet, after all.
Running on battery power will not limit performance. A 3DMark 11 run on batteries would return Physics and Graphics scores of 6186 and 1689 points, respectively, compared to 5384 and 1743 points when on mains.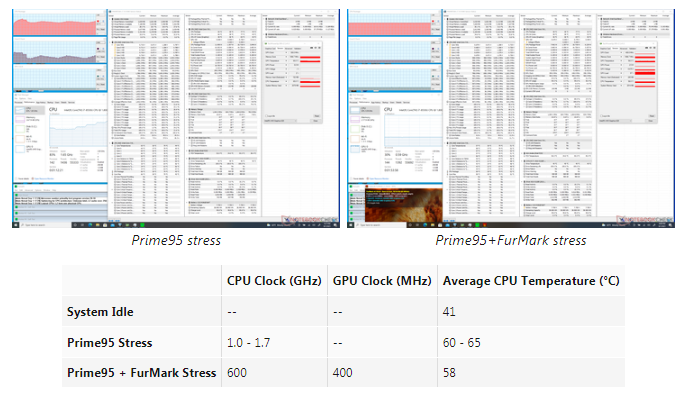 Speakers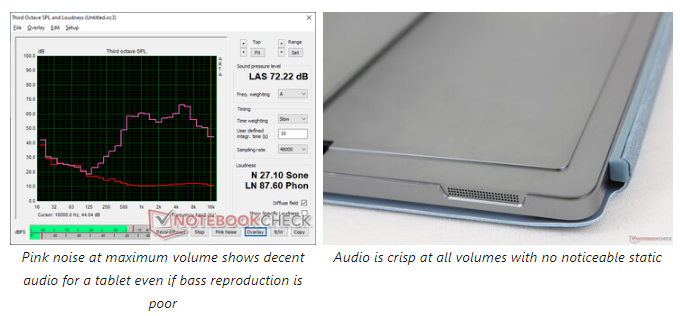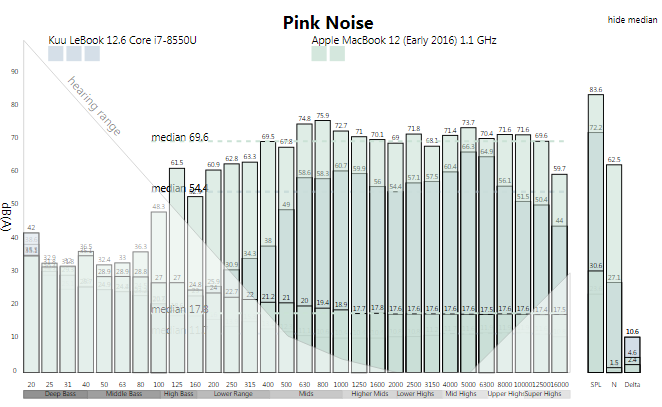 Energy Management
Power Consumption
The system consumes slightly less power than on the Surface Pro 7 Plus when running comparable applications. However, the savings of just a few watts pale in comparison to the tremendous gains in performance that the Microsoft tablet is able to offer over the LeBook.
We're able to measure a temporary maximum draw of 38.9 W from the small (~6.3 x 6.3 x 3 cm) 45 W AC adapter when running Prime95 and FurMark simultaneously before thermal limitations kick in. The aforementioned Surface Pro 7 Plus can draw significantly more at up to 62.5 W due to the higher Turbo Boost potential of its newer processor.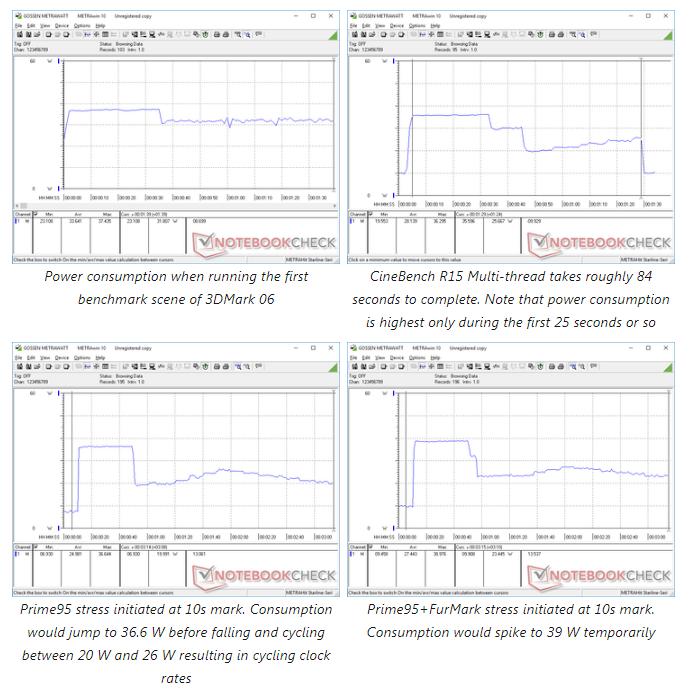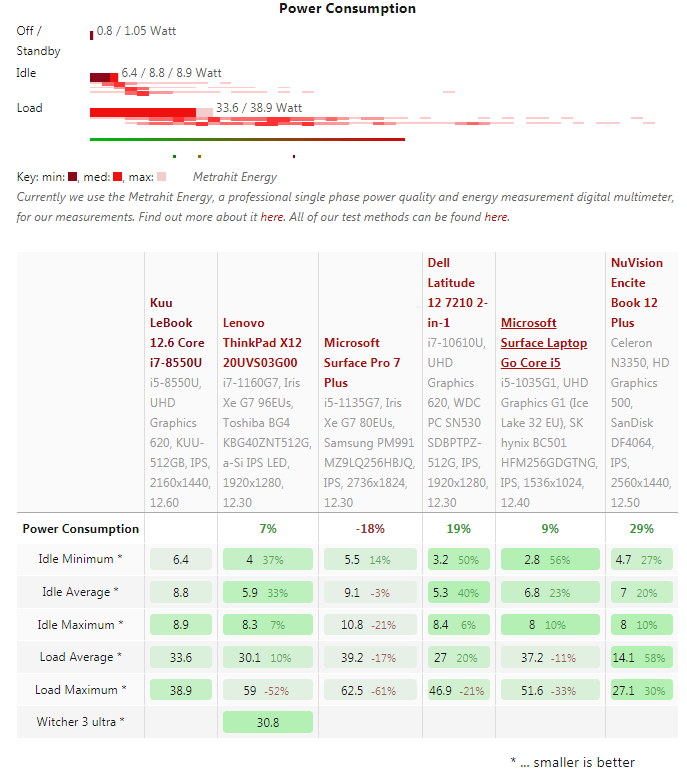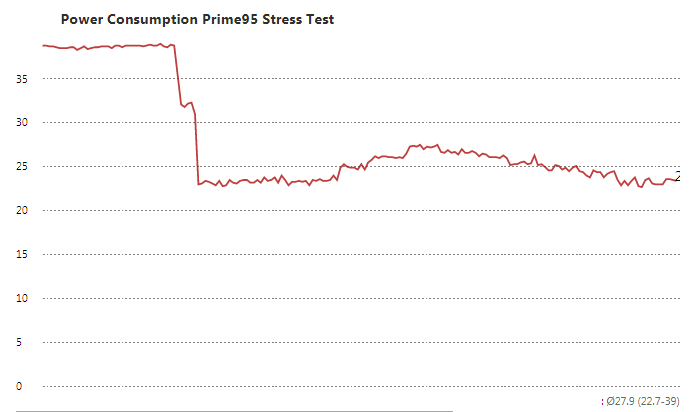 Battery Life
Battery capacity is in between that of the Surface Pro 7 and Latitude 12 7210 2-in-1. WLAN runtime, however, is nonetheless roughly two hours shorter on the KUU model for a total of almost 6.5 hours.
Charging from empty to full capacity takes about two full hours.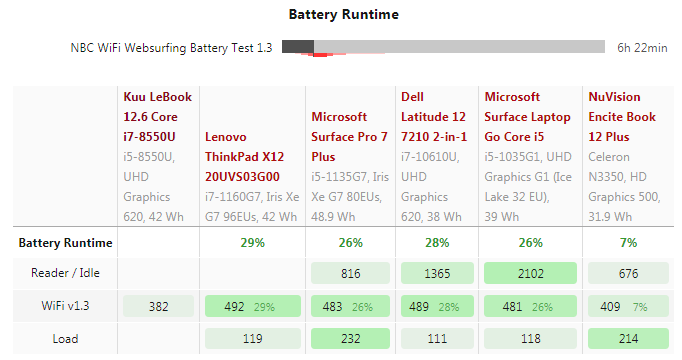 Verdict — One of the Better Windows Tablets on a Budget
The strengths of the KUU LeBook are visual and tangible. It's a solidly built tablet that could pass as a pricier flagship model like the Surface Pro or HP ElitePad. We also have to applaud the manufacturer for sticking to a Core U-series CPU instead of the much weaker Atom, Celeron, or Pentium part a la the Surface Go or many other cheaper Windows tablets in the budget range. The roomy 12.6-inch touchscreen and relatively narrow bezels help make the LeBook even more attractive.
It looks and feels like a high-quality tablet with a respectable performance from its Core U-series CPU. However, the bouncy keyboard base and high-pitched fan noise is hard to ignore.
The benefits of the KUU are mostly skin deep as the pulsing high-pitched fan, dimmer display, shorter battery, and spongy keyboard keys all hinder the user experience despite how sleek and smooth the chassis may be. Though the LeBook can't compare to the Surface Pro in these specific areas, it is still generally better than other budget Windows tablets including the Asus Transformer Book or Surface Go especially in terms of display size and performance.
Price and availability
The LeBook 12.6 is not yet widely available and with no solid launch date at the time of publishing.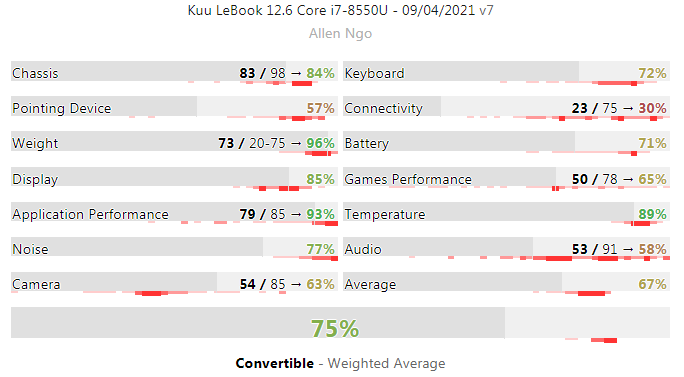 Source: https://kuu-tech.com/products/kuu-2-in-1-laptop-i7-8550u-12-6-inch-portable-laptop-16gb-ddr4-512gb-ssd-with-capacitive-pen-keyboard-support-fingerprint-boot-unlock